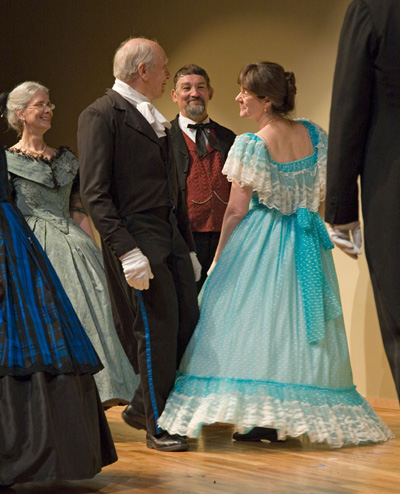 Dance Discovery, a performance dance troupe based in St. Louis, Missouri, brings festivity and merriment to celebrations by researching and performing historically faithful social dances from the 1600's to the present, including those of American, English, French and Spanish origins.
Originally formed to participate in the celebration of the bicentennial of the Louisiana Purchase and Lewis and Clark's Corps of Discovery expedition, Dance Discovery has also now focused on French and American dances from the Napoleonic era, and on the dances from the American Civil War era, in commemoration of the 150th anniversary of the Civil War.
Be sure to see the video of our performance of Les Quatre Berceaux.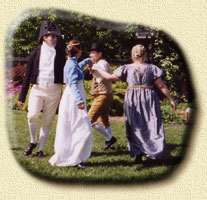 "I can think of no more fitting image of social conduct than an English dance, composed of many complicated figures and perfectly executed. A spectator in the gallery sees innumerable movements intersecting in the most chaotic fashion, changing direction swiftly without rhyme or reason, yet never colliding.
"Everything is so ordered that the one has already yielded his place when the other arrives; it is all so skillfully, and yet so artlessly, integrated into a form, that each seems only to be following his own inclination, yet without ever getting in the way of anybody else. It is the most appropriate symbol of the assertion of one's own freedom and regard for the freedom of others.
~Friedrich Schiller, 18th century German poet, philosopher and historian
We make it easy for you to learn to do these dances yourself! Purchase our Lewis and Clark Dance Manual and CD and receive dance notes, sheet music and a CD by Tu'penny Uprights with dance-length music tracks.
Dance Discovery is an affiliate of the Country Dance and Song Society.